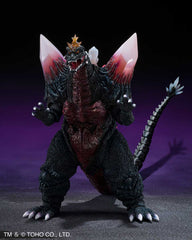 Preorder Action Figure SH Monsterarts Spacegodzilla Fukuoka Decisive Battle Ver.


Release Date May-July 2024


December 2024 marks the thirtieth anniversary of "GODZILLA VS. SPACEGODZILLA," with an all-new S.H.Monsterarts set commemorating the epic battle of Fukuoka!
Newly sculpted chest parts and options let you re-create SPACEGODZILLA's damaged crystal shoulders, as seen in the battle against GODZILLA and MOGERA.


Preorders: Orders must be paid in full when your order is processed.