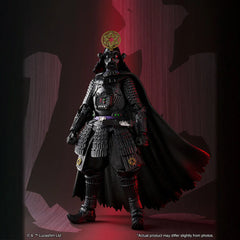 Preorder Action Figure Samurai Taisho Darth Vader (Vengeful Spirit)
 Estimated Release Date January-March 2024

Darth Vader returns to the Meisho Movie Realization series inspired by the ferocious battle scene with Anakin's former master in STAR WARS: OBI-WAN KENOBI.
This version will also include a Meisho series first: a diorama display base with rock pieces that can be mounted to appear as though they are floating in the air by way of the Force power unleashed by Lord Vader. Additionally, this version will include a damaged head and chest piece to fully recreate the battle scene with Obi-Wan Kenobi, but in the characteristic Meisho style.
Set includes:
Four pairs of interchangeable hands
Lightsaber
Optional lightsaber effect blade
Optional head
Optional chest piece
Diorama display base with rock pieces effect parts
 Preorders: Orders must be paid in full when your order is processed.   
FYI:  Releases of preorder items can be delayed or moved up. Wholesalers occasionally put restrictions on the number of preorders for extremely popular items, in which case we would be unable to deliver the items to every customer. Sales prices and specifications can differ from those initially planned.  If production is cancelled we will provide a full refund.