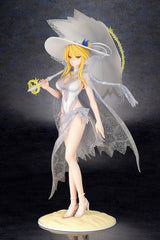 Scale Statue 1/7 RULER/ALTRIA PENDRAGON FATE/GRAND ORDER
Her eye-catching transformed Rhongomyniad parasol and multiple halos are all faithfully recreated.
Extra attention was paid to the details in the beautiful pattern of her jacket and beach wrap.
As her hat, jacket, and beach wrap are removable, she can be displayed according to preference.
*An ahoge can be attached when the hat is removed.
Add the Lion King, ready to make the most of the summer, into your collection today!
Related Products