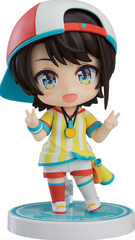 Action Figure Nendoroid Oozora Subaru
"'Sup! I'm Oozora Subaru from hololive 2nd Generation!"
From the popular VTuber group "hololive production" comes a Nendoroid of Oozora Subaru! She comes with three face plates including a standard face, an intensely focused face and her "girly Subaru" face that went completely viral! Optional parts include a miniature figure of the mascot-like Subarudo Duck, a sausage on a fork, a text plate of her first tweet and a text plate of her "I'm a girl too, you know." tweet. Be sure to add the energetic idol Oozora Subaru to your collection!