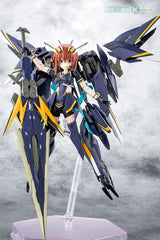 gunpla ALICE GEAR AEGIS SUGUMI KANAGATA [GA-SHIN]
"The latest model to join Kotobukiya's original Megami Device series is the Another Version of Sugumi Kanagata, Sugumi Kanagata [Ga-Shin], from the popular mobile game, Alice Gear Aegis!
As an added bonus, the kit comes with a present code to receive an item in the game.
Sugumi's character design was made by Pyramid, and the gear parts design used in this model kit were made by Kanetake Ebikawa!
The base body has been renewed for Sugumi Kanagata [Ga-Shin].
Also, the complex color scheme of the in-game design is recreated through the detailed division of parts which makes this model easy to assemble without painting. This model comes with a rifle, a one-handed sword, various gears, and even an SP weapon for added protection!
Related Products