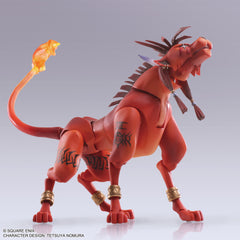 Preorder Action Figure BRING ARTS Action Figure - RED XIII
Release Date February-April 2025

From Square Enix. The original designs of the beloved classic, Final Fantasy VII, are joining the Bring Arts Action Figure series, continuing with RED XIII! The figure comes with a variety of interchangeable hands to recreate different poses from the game. Also includes a display stand.

PREORDER SALES FINAL
Preorders: Orders must be paid in full when your order is processed.   
 FYI:  Releases of preorder items can be delayed or moved up. Wholesalers occasionally put restrictions on the number of preorders for extremely popular items, in which case we would be unable to deliver the items to every customer. Sales prices and specifications can differ from those initially planned.  If production is cancelled we will provide a full refund.