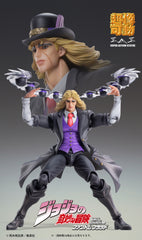 Preorder Action Figure Chozokado ROBERT E O SPEEDWAGON
Release Date March-May 2024

From Medicos. Joining the Super Action Statue figure lineup from Medicos is Robert E.O. Speedwagon from JoJo's Bizarre Adventure Part 1! This highly posable figure comes with eight interchangeable hands, an interchangeable face, and an included pistol that can be held in one of the hands. Display him with or without his iconic hat, and use the included effect parts to depict him flinging his lethal bladed hat at his opponents. The figure also comes with a base to help with dynamic posing. Get ready for some maximum action!
EXPECT DELAYS DUE TO COVID 
Preorders: Orders must be paid in full when your order is processed.   

FYI:  Releases of preorder items can be delayed or moved up. Wholesalers occasionally put restrictions on the number of preorders for extremely popular items, in which case we would be unable to deliver the items to every customer. Sales prices and specifications can differ from those initially planned.  If production is cancelled we will provide a full refund.