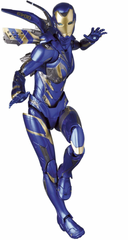 Preorder Action Figure MAFEX IRON MAN RESCUE SUIT (ENDGAME VER.)
No End Date 
Release Date June-August 2023
The Iron Man Rescue Suit seen in "Avengers: Endgame" is now part of the MAFEX action-figure lineup from Medicom! This insanely posable figure completely reproduces its characteristic shape and style, with three interchangeable heads, rear flap deployment parts, drone units, effect parts, and a posable figure stand! Order Pepper Potts in her Iron Man suit for your own collection today!
[Figure Size]: Approximately 15cm tall
FYI: Releases of preorder items can be delayed or moved up. Wholesalers occasionally put restrictions on the number of preorders for extremely popular items, in which case we would be unable to deliver the items to every customer. Sales prices and specifications can differ from those initially.  If production is cancelled we will provide a full refund.