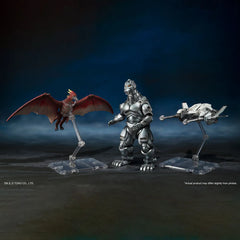 Preorder Action Figure SH Monsterarts Mechagodzilla & Garuda & Fire Rodan Makuhari Decisive Battle Ver.
END DATE:  August 17th

ESTIMATED Delivery Date:  February-April 2024

Commemorating the 30th anniversary of the release of "GODZILLA VS. MECHAGODZILLA" comes a glorious set including MECHAGODZILLA, the GARUDA, and FIRE RODAN!
MECHAGODZILLA is based on the 2017 edition S.H.MonsterArts Super MECHAGODZILLA, with updated coloring for an all-new feel. The new bluish-silver hue evokes the blue lighting
Preorders: Orders must be paid in full when your order is processed.