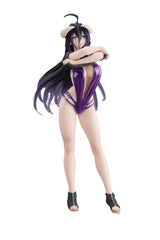 Preorder Scale Statue AMP+ ALBEDO BLACK DRESS
NO END DATE
ESTIMATED Release Date February-April 2024

From Taito. Even demons get hot sometime! The busty Albedo from Overlord IV is ready for some fun in the sun as a Coreful Figure from Taito. Pictured here removing her t-shirt before a swim, this playful figure of the demoness measures just over 7" tall.

PREORDERS ARE FINAL SALE
FYI: Releases of preorder items can be delayed or moved up. Wholesalers occasionally put restrictions on the number of preorders for extremely popular items, in which case we would be unable to deliver the items to every customer. Sales prices and specifications can differ from those initially.  If production is cancelled we will provide a full refund.