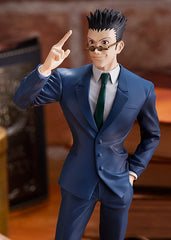 Preorder Scale Statue POP UP PARADE LEORIO
Release Date April-June 2024

From Good Smile Company.
Leorio from
Hunter X Hunter
is the newest Addition to the POP UP PARADE! POP UP PARADE is a series of figures that are easy to collect with affordable prices and speedy releases! Each figure typically stands around 6-7" in height and the series features a vast selection of characters from popular anime and game series, with many more to be added soon!
FYI: Releases of preorder items can be delayed or moved up. Wholesalers occasionally put restrictions on the number of preorders for extremely popular items, in which case we would be unable to deliver the items to every customer. Sales prices and specifications can differ from those initially.  If production is cancelled we will provide a full refund.