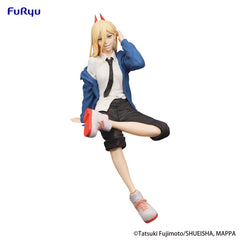 Preorder Scale Statue POWER NOODLE STOPPER FIG V2
NO END DATE 
Release Date January-March 2024

From FURYU. Power from Chainsaw Man is ready to slice her way into your collection with this Noodle Stopper Figure! Sitting approximately 5.5" tall, Power is showcased in her signature outfit, radiating confidence and strength. Packaged in a closed gift box, this figure is a must-have for any Chainsaw Man enthusiast.
PREORDER SALES FINAL

Preorders: Orders must be paid in full when your order is processed.   

FYI:  Releases of preorder items can be delayed or moved up. Wholesalers occasionally put restrictions on the number of preorders for extremely popular items, in which case we would be unable to deliver the items to every customer. Sales prices and specifications can differ from those initially planned.  If production is cancelled we will provide a full refund.