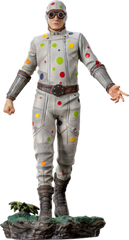 Scale Statue Iron Studios Polka-Dot Man
A member of the second strike team of the group Task Force X, better known as "The Suicide Squad," is the peculiar figure wearing a white uniform with colored circles. He heads for a mission atop a base that resembles the forest terrain of Corto Maltese along with the rest of his newly-formed team. Despite being seen as a joke by his teammates, this shy and sad character possesses destructive and lethal power. Sideshow and Iron Studios add to the line derived from the movie The Suicide Squad this statue of the curious and iconic "Polka-Dot Man BDS Art Scale 1:10 Statue."
Abner Krill was infected with an interdimensional virus because his own mother, a scientist obsessed with superheroes at STAR Labs, performed experiments on him. As a result of all these experiments, he developed a meta-human condition that caused him to create multicolored spheres shaped like glowing pustules on his body. He needs to expel the spheres in order not to be consumed by them. Codenamed "Polka-Dot Man," he launches these incendiary balls like projectiles with the aid of special gauntlets, and the spheres are capable of disintegrating anything they come into contact with. As a result, Abner suffered severe psychological trauma from his mother's experiments with him and his siblings. He is depressed, clumsy, and suffering from PTSD, which causes him to see his mother's face in everyone around him.
An obscure character from the Batman gallery of villains in the comics, Polka-Dot Man was created in 1962 by Bill Finger and Sheldon Moldoff and is one of the featured characters in The Suicide Squad, played by David Dastmalchian.
Related Products